Where can I find out about.....?
---
HAND CRAFTS

---

Book reviews are by Lady Bridget, unless otherwise noted.
---

Spell Crafts: Creating Magickal Objects by Scott Cunningham.
Once again, Scott Cunningham has given us a book well worth owning, for the newbie, experienced covener, or solitary alike. The book gives detailed instructions and illustrations of how to make lots of projects and magickal items that can be used around the house or for specific spellworking. I highly recommend this book for everyone. Use it as a resource to find projects for covens to make together, for children's groups, for Yule presents, for Sabbat decorations - this is a very useful resource.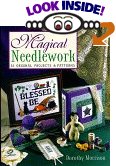 Magickal Needlework by Dorothy Morrison.
35 projects and patterns, including ones for a Pentagram that is truly good - cross stitch and needlepointers will know how tough it is to graph a pentagram! This book has cross stitch patterns (that can be used for needlepoint too), sewing patterns, and lot's of other "crafty" projects. I have this book, and use it to adapt and create my own patterns from the ideas that I got from Dorothy's projects. If your traditional Yule gifts need to be handmade, this book is a great resource.

Witch Crafts: 101 Projects for Creative Pagans by Willow Polson.
There are crafts in here for everyone - wood work, needle work, leathercrafts, beading, glass work, ceramics, sewing, etc. Clear pictures, designs, graphs and instructions make this easy to use for most people. The best part is that the projects given are not ones that you will find in other books, and the ideas and patterns given can be used in more than just one medium - they are totally adaptable to using in other ways as well.

Soapmaking: A Magickal Guide by Alison Grosso.
Using vegetable oils, herbs, essential oils, and common kitchen equipment, this book will give you and guide you through 25 all-natural recipes for luxurious, gentle, beautiful, and magickal soaps. It includes a recipe for each of the eight Pagan Sabbats, Moon Phases, Handfasting, Quest, Croning, and other major life events. Drawing on her long experience with soap, herbs, oils, and Earth-based spirituality, Alicia Grosso will also teach you how to infuse your handmade soaps with wishes, prayers, dreams, and magick. Non-magickal people will find good, basic instruction for natural small-batch soapmaking, along with herb lore and ways to fill soap with prayers, wishes, and dreams. Although written for the beginning soapmaker, even the most seasoned soaper will find inspiration in the rituals and procedures of making magickal soap.
---Editorial review by Amazon

Celtic Iron-On Transfer Patterns by Courtney Davis
For those of you who are looking for an easy way to add celtic designs to your handiwork, this book is very helpful. The designs can either be cut out and ironed on the material, or you can use them to trace the designs. Useful for shirts, woodburning, robes, tables.... and those are just the ones I've seen it used for, I'm sure you can find many others. The designs once transferred may be used again, though they come out fainter. I recommend tracing if you plan to use the same design many times. Easy to use, and well done.

Celtic Stencil Designs by Co. Spinhoven
This book comes with a wide array of designs, in solid black, so they can be cutout and used as stencils, but they could also be traced or scanned and used in computer graphics applications, scrap books, etc. The designs range from simple knots, to intricate designs taken from illuminated manuscripts like the book of Kells, and include large images (spirals, animals, human figures), repeating borders (spirals and knotwork that would look GREAT stencilled on a frame or along the edge of a table). So far I have used the designs in this book to stencil (onto blank stamp crafting postcards) Celtic boar framed in knotwork post cards, two tattoos on my husband, a few computer graphics for my website, and I've only had it for a week! .....Review by Amazon reader

Ready-To-Use Celtic Designs : 96 Different Copyright-Free Designs Printed One Side (Clip Art Series) by Mallory Pearce
Another Celtic design book with great patterns that can be either cut out or traced onto wood, material, etc. (Are you seeing a pattern here? Yes, we like our Celtic Knotwork!) These designs are more intricate and less bold than the other books presented, these are more delicate and more detailed.
---
Reading Menu
---